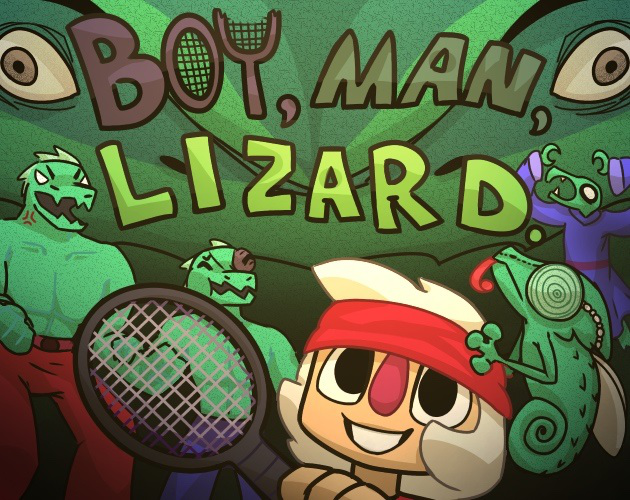 Boy, Man, Lizard
Boy, Man, Lizard is a beat 'em up inspired by Platinum Games, Vanillaware, and psychedelic music.
Features:
A strange and funny story.
An arsenal of tennis themed moves to defeat your enemies.
A combo and score system that provide depth and encourages mastery.
A full range of difficulty settings to satisfy every type of player.
Psycho mode: you only have 1 hp!
Song choice once you beat the story.
A controller is highly recommended, just use the D-pad instead of the analog stick.
Made by Thomas Keys; Thumbnail and concept art by @DSGHertzie.
Download
Click download now to get access to the following files:
Boy, Man, Lizard.zip
16 MB
Comments
Log in with itch.io to leave a comment.
Awesome video! Thanks so much for covering my game!
I really love your game! It's really well done and really fun!!! Thank you so much for sharing.
Thanks a ton! I loved the video. When you smashed your keyboard at the beginning, you must have hit the cheat code to unlock the bonus content, which made me laugh cause I thought it was pretty well hid!
that is wonderful! I wondered why "Psycho" mode suddenly showed up!
There is no claim button, only a download button.
When a game isn't free but it's free for limited time, the claim button appears. Only happens when you were trying to sell a game previously.